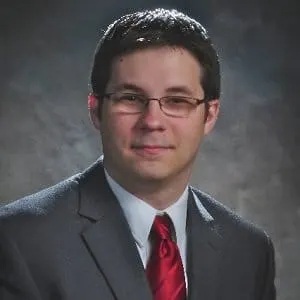 Hi! I'm Lance Cothern. I'm a Certified Public Accountant (CPA) licensed in Indiana. (Here's the proof. Just search Lance Cothern)
I started what would eventually become Money Manifesto back in 2012. It, along with freelance writing about personal finance, has since turned into my full-time job.
Many top-tier financial publications hire me to share my expertise in personal finance, debt and credit with their readers. Here are just a few of the major websites I've written for:
I regularly share my knowledge as an expert source for other publications, as well. A few examples include:
Enough about my professional expertise. Let's get on to my family's financial story that taught us so much.
My Family's Financial Story And How I Can Help You
This is my wife Tori and my son.
I want to help others master their finances by sharing our financial story and my financial expertise.
When my wife graduated from college, she had over $80,000 in student loan debt to pay back for a four-year nursing degree.
At times, we felt like we could never pay off the debt.
So, why should you listen to us, a couple that took out over $80,000 of debt for a nursing degree?
Our Financial Journey Out Of Debt
Just like many people, we didn't know what we were getting into with the $80,000 of student loan debt at the time. However, we knew what we had to do after we figured out we were in over our heads.
We took action to master our finances and improve our financial lives.
I graduated from college debt-free with an accounting degree. I quickly earned my Certified Public Accountant license just a year after graduating.
During the last couple of years of college, I became very interested in personal finance. I read everything I could about the topic.
What I learned changed our lives forever. It amazed me that so much information was available. Yet so few people understood the basics about how to control their finances.
Mastering Our Finances Was Our Goal
We've made great financial strides since graduating from college that would shock the average person.
While my wife started paying back the debt in 2011, I began documenting our journey on Money Manifesto starting in December 2012.
Every month I'd share how we were doing on our debt pay off journey. Finally, the debt was paid in full in March 2014.
That's right. We paid off over $80,000 of student loan debt in less than three years.
My wife and I didn't stop there. We used the momentum to save up a full emergency fund. We continued saving and investing for our future.
I Finally Achieved One Of My Dreams
Because of those savings, we made one of the biggest financial decisions of our lives. In November 2015, I left my corporate job to work for myself full-time through blogging and freelance writing.
I finally achieved my dream of working for myself in a business I owned. I initially stayed home to take care of my son while my wife headed off to work.
I can still earn money by working on my business during non-conventional business hours, something I could never do in my old nine to five career.
Since then, she's become a stay-at-home mom.
We Take Time To Enjoy Life
The flexibility my career offers allows us to take more time off than traditional Monday through Friday jobs would. We like to go on cruises and visit family. We can do both virtually for free thanks to our travel hacking hobby.
Here's How Our Journey Helps You
You, too, can master your finances and live your dream life just like our family is. You simply need to learn a few basic concepts and apply them to your everyday lives.
What are these concepts? That's exactly what I aim to share on Money Manifesto.
Through our experience and after reading hundreds of blogs and books on the topic, I found out that personal finance came down to a few things. If you want to be financially successful, you need to do the following:
Spend smarter
Increase your income
Destroy your debt
Save
Invest
Enjoy Life
These are the financial topics I want to help you understand and implement in your everyday life. Some concepts are simple, while others are more complicated.
The best part is there isn't just one way to master your money. The options are endless.
Once you understand and apply these concepts to your finances, you will be well on your way to mastering your finances. After your finances are under control, you can finally live your ideal life.
Who wouldn't want that?
Let's Get Started
Get started today by signing up for the Money Manifesto newsletter. You'll get our latest posts in your inbox once a week. You'll also be the first to hear about any new Money Manifesto news.
Sign up for our email list and freebies here.
After you're signed up for the newsletter, you may want to check out some of the following posts and resources on the site.
Find Extra Money By Spending Smarter – It Helped Us Pay Off $80,000 Of Debt – I share how learning to spend smarter changed our lives and how it can change your life, too.
How To Get Out Of Debt When You Don't Know Where To Start – A lengthy guide sharing exactly how I'd go about getting out of debt if I was starting over today.
123 Money Saving Tips From Personal Finance Experts – A long list of ways to save money if you need to cut back on your spending.
How We Paid Off $80,000+ Of Student Loan Debt In Under Three Years – A summary of how we paid off $80,000 of student loan debt and the journey to the finish line.
Our Student Loan Debt Pay Off Journey – A one stop shop of every student loan debt update from December 2012 to March 2014.
How Our Family Took A 5 Day Carnival Fantasy Cruise For Free – I detail exactly how we travel hacked to get a free 5 day Carnival Fantasy cruise. Only read this post if you pay off your credit cards in full every month.
If you ever have any questions or want to get in touch, please contact me. I love hearing from readers.