This is a sponsored post written by me on behalf of Chase Mortgage Banking. All opinions are 100% mine.
Chase Mortgage Banking recently commissioned a survey to see what prospective homebuyers' thoughts were about buying a home in this spring homebuying season. Browse through the infographic to see what others are thinking, then let's explore some of the findings from the survey. There is some very telling information about the average consumer below.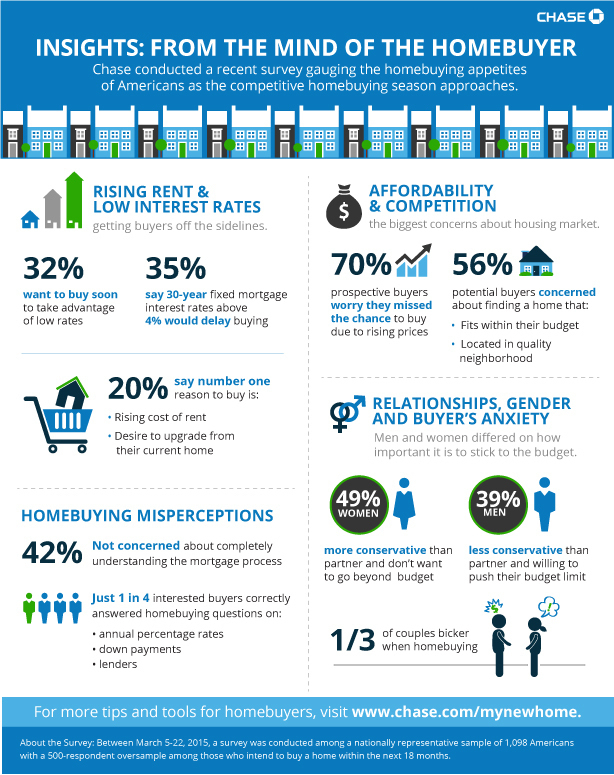 As you can see, Chase Mortgage Banking pulled together a lot of great information, but I feel there is a great need to highlight a few specific points.
First off, 32% of Americans want to buy soon to take advantage of low rates. Mortgage rates, while they have risen recently, are at multi-decade lows. The current low interest rate environment is definitely one of the reasons my wife and I decided to buy a home in the last couple years. It does make sense to take advantage of these low rates, but only in a responsible way if you can truly afford to do so. There is no sense rushing into a home to take advantage of low rates if you cannot afford to buy a home.
Unfortunately, 70% of prospective homebuyers worry they have already missed their chance to buy due to rising home prices. While home prices have risen dramatically from their recent recession lows, real estate prices vary wildly from one locality to the next. Prospective homebuyers may already be priced out of certain areas such as San Francisco and New York City, but other areas, such as the Midwest United States still have very affordable home prices. If you live in an area where buying is out of your reach and being a homeowner is one of your top goals, consider relocating to a different part of the country where housing is more affordable. If you do not wish to relocate, you may have to wait to buy a home until you're in a better financial position or the market cools off and house prices fall.
Even with the mixed results of the real estate market in 2014, 3 in 10 Americans say they plan to buy a home in the next year and a half and 43% think it will be easier to obtain a mortgage this year than it was last year. Even though many people plan to buy soon and think obtaining a mortgage will be easier, it is imperative that prospective homebuyers make a responsible decision so we do not repeat the mistakes that caused the recent real estate bubble in the 2000's.
One sad reality revealed in the survey is that only one in four potential homebuyers could correctly answer questions regarding annual percentage rates, down payments and lenders. When you're buying a home, you should make sure you understand exactly what you're getting into. Don't let real estate agents let you think it is normal to not fully understand the life changing transaction you are making. Take the time to learn exactly what you are getting into and will sign when it comes time to close on your new home. 
Chase Mortgage Banking has resources available to help you understand all aspects of the homebuying process, so make sure to take advantage of the information available on their website as you prepare to buy a home. Talk to your mortgage banker and ask them questions about any information you do not understand as you go through the process. Alternatively, if you like watching videos you can check out the My New Home YouTube channel that shares tips from real homebuyers as well as experts. As you can see, Chase Mortgage has a good pulse on potential American homebuyers so they know what questions to answer within these well-built resources.
Finally, a very telling result of the survey is the fact that one out of three couple bicker when buying a home. It is essential to get on the same page with your spouse before you start the process as this will be one of the largest financial decisions of your lives. The survey found 49% of women are more conservative than their partners and didn't want to go beyond their budget while 39% of men were less conservative than their partner and wanted to push their budget limit. Sit down ahead of time to discuss what your budget is and what, if any, circumstances would cause you to exceed your budget. Ideally, a budget should be the maximum you're willing to spend, so hopefully you don't ever have to have the discussion about exceeding your budget.
Buying a home is an exciting time in any person's life. My wife and I have had the pleasure of buying two homes in the last few years and they both have been great decisions for us at this point in our lives. If you would like to buy a home, make sure you're buying for the right reasons. Don't simply buy because everyone else tells you to. Do the research and make sure you are making the right decision for your family for many years to come.