As we were about to embark on our recent trip to Disney World, I decided to research parking options.
Is parking free at Disney World? Nope. You definitely have to pay to park at Disney World.
I was shocked to find out how outrageous it is to park at each of the four Disney World theme parks, Magic Kingdom, Animal Kingdom, Hollywood Studios and EPCOT.
In fact, I was so shocked it made me research how to avoid parking fees at Disney World.
Luckily, I found out a way to get free parking at Disney World and still make it to the theme parks. Spoler alert! We didn't take advantage of it.
Before we get to that, let me set the stage and show you Disney's current parking costs.
Disney World Parking Costs Are Insane
Parking rates at Disney World change on a regular basis, but currently, Disney charges the following rates to park at the four major Florida theme parks.
Standard parking costs $25 per day, but it isn't exactly convenient. Depending on where you park in the lot, you'll either have to take a tram or a long walk to the theme park entrance.
Oversize vehicle parking for RVs, shuttles, limos, campers, buses or tractor-trailers cost a little bit more at $30 per day.
Preferred parking is $45 to $50 per day. It costs more because it is located closer to the theme park entrances. Essentially, you pay more so you don't have to walk as far or take a tram to the park entrance.
I do see how this could benefit families with small children or families on a tight schedule, but $45 to $50 is crazy talk to me just to park your car. A four day trip to Disney World would cost you $180 to $200 just in preferred parking costs alone.
Sadly, Disney doesn't even offer a discount if you arrive late in the day. For instance, the Disney parking cost after 6 pm is the same as if you arrived bright and early in the morning.
While Disney didn't use to charge you to park in their hotel/resort parking lots as a resort guest, they do now.
The fees range from $15 to $25 per night for self-parking depending on the resort you stay at.
One place Disney doesn't charge for parking is at their water parks, Typhoon Lagoon or Blizzard Beach.
You can park for free at Disney Springs, too. That said, there is a $20 flat-rate fee if you want to pay for valet parking. This fee is collected at pickup but does not include tips.
Standard parking is also free for Disney World Annual Passholders.
Using Credit Card Rewards To Offset Parking Costs
While it isn't free parking, you can use credit card rewards to offset parking costs. If this isn't for you, I do have a trick to park 100% for free at Disney World coming up.
It's important to note that not everyone should use these strategies to score "Disney World free parking". If you have credit card debt or don't pay your balance off in full each month, you'll pay more in interest than you'll earn in rewards.
That said, some credit cards offer a flat two percent cash back on all purchases. If you can save up that cash back over a year, you'd probably have enough to cover four days of standard parking, or $100. Think of it as a Disney World parking discount.
However, I personally like to earn my credit card rewards through sign up bonuses. Banks will give you free money for simply signing up for their credit card and trying it out.
You usually have to meet a minimum spending requirement to earn the bonus. Even so, it's free money that you can use to pay for your Disney parking if you put your regular spending on your new card and pay it off in full each month.
Here's are a few examples of credit card sign up bonuses that would work well for this.
You can sign up for the Bank of America Cash Rewards Credit Card and get a $200 cash rewards bonus by spending $1,000 on purchases within the first 90 days of opening your account.
You can apply for the Bank of America Cash Rewards Credit Card here.
The Capital One Quicksilver Cash Rewards Credit Card offers a $150 cash bonus after spending $500 on purchases within 3 months of account opening.
You can apply for the Capital One Quicksilver Cash Rewards Credit Card here.
Think about it. If you simply buy your family's Disney World tickets on one or two of these cards, you'll have more than enough to cover free parking. You may even have a little extra to spend on souvenirs, meals or anything else you choose.
If you didn't like any of the above offers, you can check out my list of the best credit card sign up bonuses available this month here.
How To Park For Free At Disney World Theme Parks
Do you have to pay for parking at Disney World? Not if you play your cards right and don't mind some inconveniences.
Even though Disney charges you $25 or more per day to park a car at each of their four theme parks in Orlando, Florida, and even charges you $15 to $25 to park at their resorts, here's a way to park at Disney World for free.
Park For Free At Disney Springs Then Use Disney Transportation
As I previously mentioned, parking at Disney Springs is 100% free unless you want to valet your car, in which case you'd be better off paying to park at the theme parks. But how do you get to the parks from Disney Springs? Here's how.
You have a few options to get to the theme parks from Disney Springs for free, all of which include using the free Walt Disney World Bus Service. This could require a bit of walking and a lot of time, but it is free parking.
First, after parking, you'll need to walk to one of two areas.
If you don't want to walk as far and don't mind transferring buses, you'll want to walk to the Disney Springs Town Center bus stop located between the two parking garages.
Next, you'll hop on a bus to a Disney resort. Why? Disney buses won't head directly to the theme parks from Disney Springs until 4:00 PM. In order to cut down on time, don't just head to any resort.
Instead, head to the following resorts based on your theme park destination.
Heading to the Magic Kingdom? Take a bus to the Contemporary, Polynesian or Grand Floridian resorts. Then, hop directly on the monorail to the Magic Kingdom.

If you don't mind a bit of a walk, you can skip the monorail and take a walk to the park from the Contemporary resort.

Heading to EPCOT? Take a bus to the Yacht and Beach Club, Swan or Dolphin resorts. From there, you should be able to take a ferry to EPCOT or take a bit of a walk to the International Showcase entrance.
Heading to Animal Kingdom? Take a bus to the Animal Kingdom Lodge then switch to a bus headed toward the Animal Kingdom. Unfortunately, there is no resort within walking distance.
Heading to Hollywood Studios? Take a bus to the Yacht and Beach Club, Swan or Dolphin resorts for a quick ferry ride to Hollywood Studios. You could hop on a connecting bus to the park, too.
If for whatever reason you're arriving after 4:00 PM and before closing, you can take a bus directly from Disney Springs' Town Center bus stop to any of the four theme parks.
The other place you can walk to, assuming you don't mind a longer initial walk to head straight to the parks, is the Saratoga Springs resort situated north of Disney Springs. More specifically, you'll want to head to the Congress Park bus stop.
Since Saratoga Springs is a Disney resort, you can head straight to the parks from this bus stop without having to transfer at another resort.
Now that I've shared how you can park for free and save $25 or more per day on your Disney World vacation, why would anyone want to pay for parking?
I'm glad you're curious because we have very good reasons for paying the daily parking fees for four days.
Why We Paid To Park At Disney World
Despite the fact that we could have parked for free, we paid the standard parking fees for four days to park at each of the four Disney World theme parks.
This was money well spent in our opinion. We wouldn't have done it any other way.
Paying To Park Reduces Travel Time
First, by paying to park at each of the theme parks, we were able to cut down our total travel time drastically.
If we went to each of the theme parks via Disney Springs we could have easily added 2 hours or more of travel time each day.
It could have been much less, but I figure an hour each way would have been a minimum travel time, especially if you have to switch buses.
We would have been totally reliant on the bus system. It only offers buses at 20-minute intervals. If we missed a bus, we could have to wait a while before the next bus showed up.
You Might Miss The Best Hours Of The Day
Additionally, sometimes Disney Springs opens up after the theme parks do. That would mean we wouldn't be able to show up until well after the theme park opens.
Personally, opening time is my favorite part of the day because it is the best time to go on rides due to the short lines. We didn't want to miss out on that awesome time each morning.
We Wanted Access To Our Car
Another reason we paid to park was we wanted our car close by so we could store items in our car and retrieve them throughout the day.
We kept my wife's professional camera in the car when we went on rides. Then, we went out to the car to get her camera afterward so she could take pictures of the highlights of each theme park.
While we could have paid for a locker, we didn't want to lug all of our stuff around on the buses. We didn't want to risk something happening to her camera in a locker that Disney claims no liability over, either.
As you can see, we thought out our decision to pay for four days of Disney World parking pretty seriously. We decided it was money well spent.
We've added a child to our family, so we'll likely never consider using the Disney Springs free parking trick. Now that you know how to avoid parking fees at Disney World, it's your turn to decide.
If your Disney World trip isn't right around the corner, make sure to pin the below image so you can reference this post right before your next Disney World vacation.
Next time you drive to Disney and stay with local friends or at an off-property resort instead, will you pay for parking? Will you park for free at Disney Springs? Is the savings worth the hassle?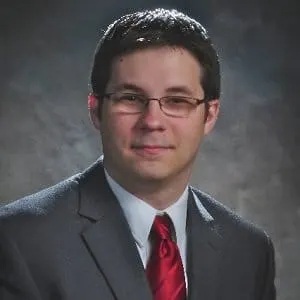 Lance Cothern, CPA holds a CPA license in Indiana. He's a personal finance, debt and credit expert that writes professionally for top-tier publications including U.S. News & World Report, Forbes, Investopedia, Credit Karma, Business Insider and more.
Additionally, his expertise has been featured on Yahoo, MSN, USA Today, Reader's Digest, The Huffington Post, Fast Company, Kiplinger, Reuters, CNBC and more.
Lance is the founder of Money Manifesto. He started writing about money and helping people solve their financial problems in 2012. You can read more about him and find links to his other work and media mentions here.