Our Chase Credit Journey review shares everything you need to know about this offering from Chase.
Chase Credit Journey is a free service that gives you access to your credit score.
You can use this Credit Journey service whether you hold accounts with Chase or not.
But is Chase Journey worth signing up for? Or should you skip it for better free credit monitoring websites?
Here's the good, bad and ugly in our Chase Credit Journey review.
Our Chase Credit Journey Review
If you're looking for a free credit score to get a general idea of your credit health, Chase Credit Journey might be the perfect fit for you.
However, those looking for more detailed information about their credit can find better options elsewhere. Here's what you need to know.
What Is Chase Credit Journey?
Chase Credit Journey is a free credit monitoring and credit score product offered by Chase to both customers and non-customers.
The Chase Journey service gives you a free VantageScore 3.0 credit score based on your Experian credit file once per week. You can also view the main factors impacting your credit, credit alerts and your Experian credit report.
The Good
The good news is the credit score you receive is free and updated weekly. You can also access your Experian credit report for free, which is a nice benefit that not all free credit score or credit monitoring services offer.
The Bad
The bad news is it's only a single score from one bureau.
There are three major credit bureaus that keep track of your credit information. Each bureau works independently, so each bureau may not have the same information.
Ideally, you need credit scores from all three major credit bureaus, Equifax, Experian and Experian to make sure your credit health is good.
The Ugly
The ugly news is the credit score provided is a Experian VantageScore 3.0. There is nothing wrong with VantageScore, but it isn't the most popular credit score used to make lending decisions.
Instead, FICO scores are more widely used. This means the free credit score you see with this service won't likely be the same score a lender pulls when you're trying to get approved for a loan.
You can use your VantageScore as an overall view of your credit health. However, you should use the actual credit score your lender will use if you're trying to figure out if you'll get approved for a loan.
Other credit monitoring or credit score products do offer FICO scores. Some are even offered for free. Even then, there are multiple versions of FICO credit scores, so make sure you're checking the right one.
How Chase Credit Journey Works
When you sign up for the Chase Credit Journey free credit score product, you give Chase authority to access your credit information. Chase then gets your credit report and VantageScore 3.0 credit score information based on your Experian profile.
Credit Journey accessing this information does not impact your credit score in any way. Chase pulls your information with a soft inquiry, which does not damage your credit score.
When you log in to your Credit Journey page, Chase immediately brings you to your credit dashboard.
This dashboard displays your most recent credit score and the date your credit score will update next. You can also view your credit score history by clicking the "Over Time" tab.
Below your score, Chase lists the six major factors that impact your credit score along with how you're doing on those factors based on data from your credit report.
You can click on any of these factors to see detailed information about how you're doing on that factor.
Related: How Your Credit Score Is Calculated
Chase Journey Features
In addition to your basic credit scoring information, Chase Journey offers the following features. They can be extremely helpful.
Credit Alerts
Whenever there are important activities or changes on your Experian credit report, Chase Credit Journey alerts you.
The default option is to send you an email any time there is an alert, but you can turn these off in the settings.
I recommend keeping email alerts on, though. These alerts are really important because they help you keep an eye on your credit.
If you get an alert that a new inquiry popped up on your report or an account showed up that you didn't initiate, you know you need to take action immediately to lock down your credit to prevent fraud.
Important alerts may include:
Changes in credit limits
Credit utilization changes by more than 20% on an account
A balance changes by at least $2,500
Opening new accounts
Potentially negative items (Late payments, etc)
Potentially positive items (Reducing outstanding debt, etc)
New credit inquiries
New public records such as bankruptcies, lawsuits and foreclosures
When an account is considered dormant
Changes of your address
Credit Score Simulator
The credit score simulator is an amazing tool to help you determine how certain actions would impact your VantageScore 3.0 credit score.
You can see how much paying off debt could boost your credit score. If you're looking to earn a new credit card sign up bonus, you can see how much applying for an opening a new card could hurt or help your credit.
This tool can be especially useful if you're looking to improve your score before taking out a major loan like a mortgage. Increasing your score could improve your interest rate and save you a ton of money.
Here's an example of how it works. In this example, I added one hard inquiry and my score dropped 3 points.
In particular, the simulator allows you to simulate the following:
Adding a new credit card with a new credit limit
Paying off or maxing out credit card limits
Adding a mortgage with a set loan amount
Adding an installment loan with a set loan amount
Transferring your balance to a new card
Getting declined for a loan
Making on time payment for all accounts for X months
Missing a payment on a credit card
Declaring bankruptcy
Your Credit Report
Credit Journey also gives you access to your Experian credit report.
While you can get one free credit report from each bureau each year from AnnualCreditReport.com, this credit report updates every time your score updates.
This is a great way to check your report for errors before applying for credit. That way, you can make sure your score is the best and most accurate it can be. After all, even credit bureaus make mistakes.
Credit Resources
Chase Journey also gives you access to their credit resources. These resources are super helpful if you're just learning about credit, credit scores and how to improve them. They share:
Credit essential basics
Building credit health
Credit myths
How to use credit to achieve your goals
Related: A List of Free Credit Score and Free Credit Report Resources
Chase Credit Offers
While Chase offers this credit monitoring service for free, they do have another motive for offering it. As part of the service, Chase displays offers for Chase specific products. These products include credit cards, home loans, mortgages and more.
Feel free to explore these offers to see if any of them are a good fit for you. However, you should be aware you will only see Chase products and services.
If you want to compare these products and services to other banks, you'll need to do so yourself.
Accessible Via The Chase Mobile App
Want to view your credit score on the go? You can access Chase Credit Journey on the Chase Mobile banking app.
Look for the line that says "Credit Score" and click it to view the same experience as you'd have on a computer.
Alternative Free Credit Score Services
Chase Credit Journey isn't the only free credit score service out there. In fact, Chase was late to the game. There are plenty of ways you can get free credit scores today, including free FICO scores.
Discover's free scorecard offers your FICO Score 8 from TransUnion
Capital One CreditWise offers a TransUnion VantageScore 3.0. Learn more in our Capital One CreditWise review.
Credit Karma offers free TransUnion and Equifax VantageScore 3.0 credit scores
Credit Sesame offers a free TransUnion VantageScore 3.0 credit score. Read our Credit Sesame review for more details.
Self Lender offers a free Experian VantageScore 3.0 credit score
In addition to free credit score services, many credit cards now give you a free credit score, too. In fact, many free credit scores offered by your credit cards are FICO scores.
Should You Get Chase Journey?
If you take nothing else from our Chase Credit Journey review, know that the service is absolutely 100% free. You don't even have to give payment information. For that reason, you have nothing to lose by signing up.
Personally, I think there are better free credit score products out there. However, there's nothing wrong with signing up for multiple free credit score services. In fact, I suggest it.
This way, you can keep tabs on all of your credit reports and credit scores. Simply sign up for complimentary services that offer different bureaus or scores to get a better picture of your overall credit score.
Signing Up For Chase Credit Journey
Signing up for a Chase Credit Journey account is easy. To get started, visit the Chase Credit Journey landing page here.
Not A Chase Customer?
If you aren't a Chase customer already, click on the green "Enroll" button on this page to get started.
You'll have to create a username and password. You'll also have to provide your name and email address. Finally, you'll create a secret question and answer. Then, click "Next".
Next, you'll add your date of birth, address, whether you've lived at that address for over six months, your mobile phone number and your Social Security number. Read the terms and conditions then click that you agree. Finally, click "I Consent".
The last step is verifying your identity by getting a PIN via text or answering questions that you should know the answers to based on your credit and personal history.
Already A Chase Customer?
If you're already a Chase customer, you can sign up for Chase Journey within your Chase account by following their sign in link on the above page. If you don't see where to sign up, click on this link when logged in.
Chase Credit Journey Review – Common Questions
Where Is The Chase Credit Journey Login Page?
Once you've signed up for an account, it isn't always easy to remember where to log in to Chase Journey.
If you have Chase products, such as a checking account, savings account or a credit card, log in to your Chase account here. Once logged in, My Credit Journey is listed on the left side of the page.
Click "Free Score, updated weekly >" to see your score, highlighted by a red box in the screenshot below.
If you don't have any Chase products, here's the link to login to Chase Journey. Bookmark it so you can easily find it next time you need it.
How To Delete Your Chase Journey Account
If you've decided you no longer want to keep your account active, you can delete it by following this link.
What questions do you have about Credit Journey? Let me know in the comments and I'll be sure to address them if I can!
Chase Credit Journey
0.00
Credit Report Cost
9.0/10
Pros
Free credit score
Weekly score updates
Free credit report
Credit simulator available
Cons
Uses VantageScore not FICO scores
Only offers Experian credit score
Only offers Experian credit report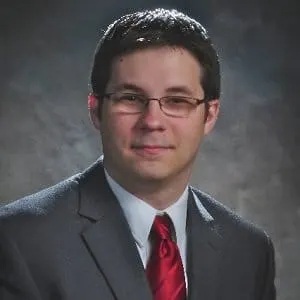 Lance Cothern, CPA holds a CPA license in Indiana. He's a personal finance, debt and credit expert that writes professionally for top-tier publications including U.S. News & World Report, Forbes, Investopedia, Credit Karma, Business Insider and more.
Additionally, his expertise has been featured on Yahoo, MSN, USA Today, Reader's Digest, The Huffington Post, Fast Company, Kiplinger, Reuters, CNBC and more.
Lance is the founder of Money Manifesto. He started writing about money and helping people solve their financial problems in 2012. You can read more about him and find links to his other work and media mentions here.