CreditWise is a free service offered by Capital One for everyone to use, including people that aren't Capital One customers.
Essentially, Credit Wise gives you free access to your credit score and credit report. But is this free access as good as it sounds?
I've been using it for a couple of years now. Here's my take.
CreditWise Review Highlights
If you don't feel like reading our full CreditWise review, we've boiled it down to the good, bad and ugly about their service. Here's what you need to know.
The Good About Capital One CreditWise
What's awesome is you get your credit score and credit report for free. You don't have to enter a payment method to gain access and you won't be charged for it at any time.
What's even better is your score and credit report are updated on a regular basis, not just once per month.
You also get access to a credit score simulator to see how potential changes could impact your score.
The Bad About Credit Wise By Capital One
While this service is free, it isn't perfect. You only get a credit report and credit score from one bureau, TransUnion.
There isn't anything wrong with TransUnion. The problem is you need access to credit scores and credit reports from all three credit bureaus to get the full picture of your credit health.
The information at each bureau may be different, so you need to verify it is all correct.
Your potential lenders can pull scores from any of these three bureaus or all three, so it's best to be prepared by making sure all three bureaus are correct.
The Ugly About Capital One's CreditWise
The worst part about this free service is the type of credit score they offer.
It's a VantageScore 3.0 credit score. VantageScore isn't typically the type of credit score used to make lending decisions, so your lender will likely see a different credit score than you do.
Using a VantageScore is cheaper than using a FICO score, so this is likely a cost saving measure by Capital One. This makes sense because the service is free. When you're getting something for free, don't expect to get the best of everything.
Capital One may also use your information to market their credit and banking products to you.
Sign Up For Your Free Capital One CreditWise Account
Ready to see your free credit score and get all of the other benefits of having a Creditwise by Capital One account? Sign up for the 100% free service by clicking here.
Our In Depth Review
Now that we have the overview of Capital One CreditWise out of the way, we can dive into the details.
This part of the CreditWise review is for people who want to know everything there is to know about this free credit score and free credit monitoring service before signing up.
What To Know About Your Free Credit Score
Capital One gives you a free VantageScore 3.0 credit score based on your TransUnion credit report. This credit score ranges from 300 to 850 and is categorized as follows according to Capital One:
761 to 850 – Excellent
701 to 760 – Good
621 to 700 – Average
300 to 620 – Below Average
Since Capital One uses a soft pull to gather this information, it will not impact your credit score or hurt your credit score in any way.
You can update your credit score weekly using the service, but you must log in once per week for this update to occur.
If you don't log in once per week, it will automatically update your score monthly. This is nice because it gives you a history even if you don't log in on a regular basis.
In addition to your credit score, Capital One shows you the six main factors impacting your score and whether your factors are excellent, good, average or below average in each category.
The categories include:
On-time payments
Oldest credit line
Percent of available credit used
Number of recent inquiries in the past two years
Number of new accounts in the past two years
Your amount of available credit
Suggested Ways To Improve Your Credit Score
If you want to work on improving your credit score, CreditWise can help. Based on your credit information, a list of specific actions will be created from most impactful to least impactful.
You can access this at the bottom of the dashboard underneath the "What Impacts Your Credit" section.
Start at the top of the list and work your way down to start improving your score.
The recommendations shared with me were I have too many inquiries on my credit report and that my balance on my loans is high compared to how much I initially borrowed.
To help this, I can quit applying for new credit and work to continue paying off my loans like my mortgage.
View Your Credit Report For Free
In addition to your free credit score, you also get access to your TransUnion credit report for free. Like with your credit score, your credit report can update as often as once per week.
Keep in mind, it sometimes takes a while for an action to reflect on your credit report. CreditWise only shows what TransUnion reports to them.
Even if you've made a change, such as paying off a loan, it won't show up on your free TransUnion credit report in Credit Wise if it hasn't been reported to TransUnion yet.
While this is a great way to monitor your credit report for errors and potential fraud, you still need to check your credit reports from the other major bureaus every once in a while.
You can do this for free once per year for each major credit bureau at AnnualCreditReport.com.
CreditWise's Credit Simulator
When you're working to improve your credit, it's easy to wonder how certain actions will impact your credit score. The CreditWise credit simulator can help.
You can see how a wide range of activities will affect your credit score including:
Paying off debt
Making on-time payments for 6, 12, 18 or 24 months
Allowing one account to go delinquent by 30, 60 or 90 days
Allowing all accounts to go delinquent for 30, 60 or 90 days
Using more of your available credit
Increasing the credit limit on one of your credit cards
Opening a new credit card with a particular credit limit
Opening a new credit card and transferring a balance to the new card
Canceling your oldest credit card
Taking out a mortgage to buy a house
Having your property foreclosed on
Taking out an auto loan to buy a car
Taking out a personal loan
Applying for a loan with a certain number of applications for shopping around
Making child support payments
Having wages garnished
Keep in mind, the credit simulator simulates your VantageScore 3.0 credit score. This probably won't be the same score your lender uses.
That said, it is a good general predictor of whether actions will help or hurt your score and provides a rough estimate of how big of an impact the action will have.
Here's what would happen to my credit score if I had one account go delinquent by 60 days. Sadly, my VantageScore 3.0 score would decrease by about 110 points.
Credit Wise Credit And Identity Alerts
One of my favorite features is the alerts. Capital One issues both credit and identity alerts.
The credit alerts notify you of changes to your credit report such as opening new accounts, new inquiries, delinquent accounts, improved accounts and bankrupt accounts.
You get an email each time there is an alert you should know about. If there are no changes to your credit report, Capital One will send you an email once per month stating that.
What's awesome is these credit alerts come from both your TransUnion and your Experian credit reports giving you a fuller picture of potential problems.
They also send alerts for changes in your public records, address or employment information on your TransUnion credit report.
Your identity is monitored for potential issues, too. Capital One looks for your email address and Social Security Number (SSN) on the dark web. If they find it, they'll let you know.
Credit Activity And History
The credit activity and history section shares two main features.
First, they show your current score versus the most recent score before that. They show the change and the major differences in your credit report between the two scores.
Next, your credit score history is put on a graph to help you visualize your progress over time.
Sign Up For Your Free Account With CreditWise By Capital One
Now that you know everything this service has to offer, you should know whether it's a good fit for you or not.
If it is, sign up for a free account here. If not, check out our alternatives below.
CreditWise Alternatives
If Capital One's Credit Wise doesn't seem like a good fit for you, there are other services that offer free credit scores, free credit monitoring and free credit reports.
Here are the credit bureaus and scores used by each of the following free programs:
Discover has a free credit scorecard program that offers a free TransUnion based FICO Score 8, even if you aren't a Discover customer.
Chase Credit Journey offers a TransUnion VantageScore 3.0 credit score. Read our Chase Credit Journey Review.
Credit Karma offers two free credit scores, TransUnion's and Equifax's VantageScore 3.0.
Credit Sesame also offers a TransUnion VantageScore 3.0 credit score. Find out more in our detailed Credit Sesame review.
Self Lender offers an Experian VantageScore 3.0 credit score.
Common CreditWise Questions And Answers
Where Is The CreditWise Login Page?
If you have other accounts with Capital One, you can access it after logging in to your account.
If you don't have a Capital One account, or you want to access the service directly, you can log in here.
Is There A CreditWise App?
Technically, there is no app. However, you can access CreditWise's full functionality through the Capital One app.
Is CreditWise Actually Free?
Yes, Capital One's Credit Wise is 100% free. You don't have to input a payment method and won't ever be charged.
That said, Capital One gains access to the same credit information they share with you. This can help them market their products to you.
Which Credit Bureau Does CreditWise Use?
Information and credit scores are pulled from your TransUnion credit data. For their alerts, they use your Experian and TransUnion credit reports.
Is Capital One Credit Wise Accurate?
Yes, this service provides accurate information. However, they use a VantageScore 3.0 from TransUnion, which isn't the most common score used by lenders to make lending decisions.
While Capital One's data is accurate based on the scoring model they offer, there are other versions of your credit reports and scores you need to be aware of, too.
You have two other credit reports and scores from the other bureaus, Equifax and Experian.
What questions do you have after reading our Capital One Credit Wise review free credit score program? Let me know in the comments and I'll address them the best I can.
Capital One CreditWise
0.00
Credit Report Cost
9.0/10
Pros
Free credit score
Scores updated weekly
Free credit report
Credit simulator
Cons
Uses VantageScore not FICO scores
Only get a credit score from TransUnion
Only get a credit report from TransUnion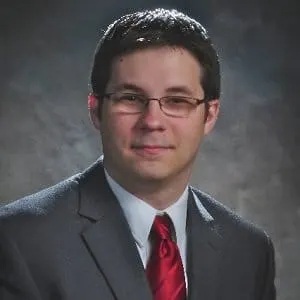 Lance Cothern, CPA holds a CPA license in Indiana. He's a personal finance, debt and credit expert that writes professionally for top-tier publications including U.S. News & World Report, Forbes, Investopedia, Credit Karma, Business Insider and more.
Additionally, his expertise has been featured on Yahoo, MSN, USA Today, Reader's Digest, The Huffington Post, Fast Company, Kiplinger, Reuters, CNBC and more.
Lance is the founder of Money Manifesto. He started writing about money and helping people solve their financial problems in 2012. You can read more about him and find links to his other work and media mentions here.