A year ago my wife (girlfriend at the time) and I opened up to you about how much student loan debt we had. We weren't proud to admit how much student load debt we really had. However, the past is the past and we couldn't do anything about it other than pay it off as quick as we could.
In December of 2012 we still had $60,265.53 of student loan debt left, down from a high of around $82,000 in May 2011. Luckily I graduated debt free, or else our debt load could have been much higher!
At the same time, in December 2012 I had saved up $22,380.49 of my own money to put toward paying down her student loan debt when we got married. Things didn't go exactly according to plan over the last year. If they did, we would have been student loan debt free months ago, but life happens.
Where We Deviated From The Plan In 2013
Life never seems to go according to plan, does it? This time, though, it was our fault we veered off the path of total student loan debt destruction. It wasn't a thoughtless action. We had a plan. Hindsight being 20/20, we're glad we executed it when we did because it has saved us tens of thousands of dollars.
First, a little bit of history. In 2011, we bought our first home. This house was perfect for us at the time given the situation we were in. We knew the townhouse would work out long term because it was the perfect first rental property when we decided to move into our long-term home.
In 2013, instead of taking the large chunk of cash I had been saving and using it to pay down my wife's loans, we decided to buy our long-term house. We knew interest rates would likely never be much lower and home prices were about to start heading up. We lucked out and were right on both counts, at least so far.
If we had waited and bought a home similar to our current house today, chances are it would cost about $5,000 to $10,000 more in the home's price and our interest rate would be 0.875% higher, which is a big deal. In fact, that 0.875% would cost us over $25,000 more in interest payments over the life of our 30 year death pledge. CRAZY!
Two Other Speed Bumps This Year
The house purchase in 2013 was a detour from our original plans, but we had two other speed bumps in 2013 as well. One was planned for and the other was not.
Heading into 2013, Tori was about to head back to work after her foot surgery. We were super excited to get back to full dual income status again and continue the student loan debt slaughter. She returned to work for a few weeks and then we were informed of some terrible news.
Tori's first foot surgery had failed and she would need a second surgery to correct it. This time she'd have to stay off her foot for over 4 months. As a nurse, this meant she wouldn't be able to work the entire time.We were super glad we still had 80% short term disability policy that would pay us for 21 weeks.
There was a week at the end where she had to use some vacation in order to get paid and another week where she wasn't paid at all. Luckily, she returned to work in September and hasn't had any problems since.
The second financial speed bump was the fact that we got married. Luckily for us, I had already set aside our entire wedding budget ($5,000) during my first year of employment when I received a bonus. This meant that we didn't have to put our student loan debt payments on hold while we tried to pay for our wedding which was amazing!
That said, we've still made outstanding progress on my wife's student loan debt this year. Let's get into the details and see how far we've come in one short year!
How Far We've Come In One Short Year
In December 2012 we had 6 student loans and owed $60,265.53. Today, we're much better off. Here's a summary of our loans and an update on our progress.
Private Student Loan 1 – 8.0% Variable Interest Rate DESTROYED!
In December 2012 we owed $9,423.88 on this student loan, but it originally was well over $20,000 when my wife graduated in 2011. We officially destroyed this student loan in August 2013.
Private Student Loan 2 – 5.75% Variable Interest Rate SLAUGHTERED!
In December 2012 we owed $22,959.72 on this student loan. We actually just finished paying this student loan off last week (December 2013) and couldn't be more excited! We paid off $4,342.47 since last month on this loan. Our largest student loan is finally dead.
Federal Student Loan 3 – 6.8% Fixed Interest Rate OBLITERATED!
In December 2012 the balance on this student loan was $4,106.38. We obliterated this student loan in August of 2013.
Private Student Loan 3 – 4.75% Variable Interest Rate FRESHLY BURIED!
In December 2012 the balance on this student loan is $8,368.70. Today we owe $7,942.72 which means we've paid off $425.98 on this loan over the past year and we've paid off $139.29 since November.
Federal Student Loan 1 – 6.8% Fixed Interest Rate
In December 2012 we owed $7,942.43 on this loan. Today we owe $7,262.51. We paid off $679.92 over the last year and $52.59 since November.
Federal Student Loan 2 – 6.8% Fixed Interest Rate
One year ago we owed $7,464.42 on this student loan. Today we owe $6,822.41. We've paid off $642.01 over the last year and $49.69 since November.
Total Student Loan Progress
It is hard to believe how far we've come over the last year with everything that has happened. One year ago we owed $60,265.53 and today we only owe $22,027.64. In total, we've paid off $38,237.89 over the last year and we've paid off $4,584.04 since last month's update!
It hasn't been easy. We've made a ton of sacrifices and we've both been working hard at our day jobs. We've been working hard to earn extra income, whether it be from side hustles or extra shifts at work. All of that hard work has definitely been worth the progress we've made in our student loan debt pay off.
When Will The Student Loans Be Gone For Good?
We're hoping to have all of the student loan debt gone for good by the end of April or sometime in May. Of course, this will only happen if we stay on track with our plans and there aren't any surprises that pop up in the next few months.
I Want To Know Your Story
Do you have any debt you've been trying to get rid of? How far have you come in the last year? Have you hit any speed bumps? Let me know in the comments below. If you don't want to share publicly, you can always send me a message via my contact form.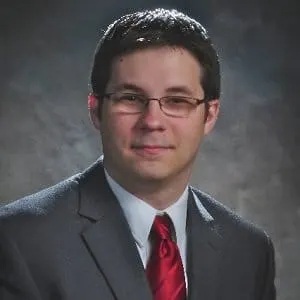 Lance Cothern, CPA holds a CPA license in Indiana. He's a personal finance, debt and credit expert that writes professionally for top-tier publications including U.S. News & World Report, Forbes, Investopedia, Credit Karma, Business Insider and more.
Additionally, his expertise has been featured on Yahoo, MSN, USA Today, Reader's Digest, The Huffington Post, Fast Company, Kiplinger, Reuters, CNBC and more.
Lance is the founder of Money Manifesto. He started writing about money and helping people solve their financial problems in 2012. You can read more about him and find links to his other work and media mentions here.